Our Office
Our philosophy at Padre Dental Group is to offer full service dental treatment for the whole family. We enjoy working with all ages. Combining artistry and advanced technology, Dr. Preston and Dr. Valerie Kaenel use the latest material and techniques to create the smile you want. Through individualized care, together we will set realistic goals and give you a dental treatment plan that will suit your specific needs. We hope you experience your next dental visit with us.
Our dental office is conveniently located in Hillcrest, San Diego.  We are located in the same building as Scripps Medical Group and the Continental Rehab Hospital.  Scripps Mercy Hospital just a couple blocks away.
We are located on the SE corner of 5th and Washington St in Hillcrest in the same building as Scripps Coastal Medical Group and Vibra Hospital.  You can find Kona Coffee on the corner of our building.  There are 4 levels of underground parking in the building. The parking in the building is $1 every 20 mins and we do not validate.  Once you park, follow the blue signs to take the medical offices elevator to the 7th floor. There is also the option of metered parking on the street.
Hours
Monday through Thursday
8:00 am to 4:30 pm
Friday
8:00 am to 2:30 pm
Earlier or later appointments available upon request
Call us today for an appointment (619) 688-1001
Driving Directions
From the 163 south, exit University Ave. Turn right onto University Ave and then right onto 5th Ave. The building will be on your right hand side with an entrance to the parking structure just past Pizza Nova.
From the 163 north, exit Robinson. Go left on Robinson. Turn right onto 5th Ave. Building will be on your right hand side.
From Downtown, go east coming up 5th street and the building will be on your right hand side.
Technology
We pride ourselves in staying up to date with the latest material and equipment. We offer to our patients:
Digital xrays to ensure extremely low radiation to our patients
Computerized charting and appointments
Diagnodent- laser cavity detector
Intraoral camera
Cerec, one visit crowns
Invisalign
Environment
We care about our environment:
Latex free
Amalgam separator on vacuum which prevents amalgam waste getting into our city sewer
Dry vacuum exceeds current environmental standards
Meets or exceeds all OSHA standards
Patient Safety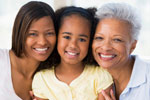 Weekly spore testing
Weekly water line treatments
Closed water line system using bottle water
Digital radiography leading to 90% less radiation
Financial & Insurance

We believe quality dental care should be accessible to everyone. We accept most PPO and indemnity insurance plans. We offer Care Credit to help with financing treatment. We accept credit cards, debit cards, cash and check. Please call if you have any questions about insurance or financial arrangements. We will be happy to answer your questions.