Cosmetic Dentistry
Are your teeth chipped or stained? Or perhaps you are missing teeth? Cosmetic dentistry may be for you. With so many new materials and procedures available today, teeth can be bleached, bonded, veneered and crowned. Spaces can be filled with implants, bridges or partials. We work closely with dental specialists in the area for procedures such as implant placement, oral surgery, gum surgery, and orthodontics.
We invite you to read about some of the procedures we offer and contact the office for your consultation. At your consultation, we can openly discuss treatment options available and determine which procedures are best suited for you to reach your goals. We will provide a treatment plan for your personalized restorative care.


Porcelain Veneers
Porcelain veneers are thin, custom-made shells of tooth colored material that bond to the front of your teeth. Veneers are excellent in correcting problems such as gaps, chips, stains, crooked and cracked teeth. Veneers can change the color, shape, size and length of your own teeth. They provide a natural tooth appearance and are very resistant to stain. They typically last between 5-10 years before they need to be replaced. There are definitely some disadvantages to veneers too such as fractured veneers can't be repaired, it is an irreversible procedure and they can pop off. We are happy to discuss your case and to see if you are a good candidate for veneers. In as short as two visits, you can have beautiful straight, white teeth that you've always wanted!
Before and After Dental Treatment: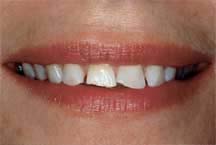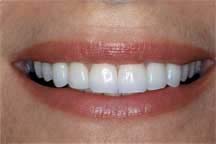 Tooth Whitening
Who doesn't want a brighter, whiter smile?? Everyone notices your smile and now tooth whitening couldn't be easier. And, it just might be all you need to give you the look you've been wanting. Over time, the natural aging process along with coffee, tea, wine and smoking can make your teeth yellow. Now you can whiten your teeth with confidence. Not only is it fast, but safe. The bleach we use has both potassium nitrate and fluoride which has been proven to prevent cavities and remineralize the enamel. This means your enamel is actually harder and healthier than when you started!!
Before and After Dental Treatment: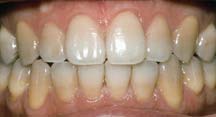 We proudly use the Opalescence tooth whitening system at Padre Dental. We have three whitening options available to meet your individual needs.
CUSTOMIZED We start with impressions of your teeth so we can make thin, flexible trays for you. You place the bleaching gel in the trays then fit them over your teeth. You will see results usually after the first couple of days, but it typically takes 7-10 days to achieve your desired results.
IN-OFFICE With this option, we place the bleach on your teeth for you while you are in the dental chair. We use the Opalescence Xtra Boost. This product is so advanced; it doesn't require a light or laser for activation. Through enhanced chemical activation, it activates itself on your teeth without using heat or UV rays. It is simple. It is easy. And you'll leave the office in about 1 ½ hours with whiter teeth!
ALTERNATIVE OTC With Opalescence Treswhite Supreme, tooth whitening has never been easier. Preloaded whitening trays are simply inserted over your teeth for a comfortable fit. Only takes 60 minutes a day and the results are immediate. Treswhite is the most powerful take-home bleach available.
We'd be happy to discuss your case with you next time you are in the office to see which product would be best for you. Please ask anyone at Padre Dental about your tooth whitening needs as everyone is knowledgeable and eager to answer your questions. For more information about the Opalascence tooth whitening system, visit their website at www.opalescence.com.
Tooth Colored Fillings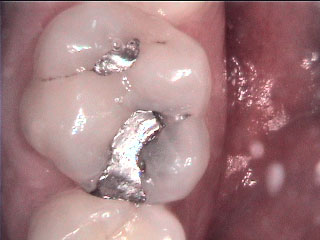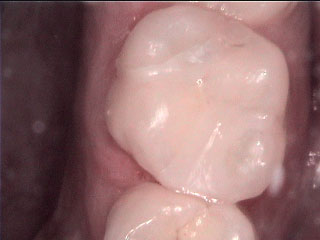 Fillings no longer have to be dark and unnatural looking. In fact, we don't even placed amalgam fillings anymore at Padre Dental. Composite filling material is the natural color of teeth and looks extremely realistic. Composite resins are strong because they actually chemically bond to the tooth structure, providing further support to the tooth. The fillings also require less tooth structure to be removed. It also results in fewer fractures in teeth compared to teeth with silver fillings. They can be long lasting with proper care and maintenance.
Tooth colored fillings to have their limitations though. It is not recommended to replace very large, old silver fillings especially in the molars with a "white filling". They will not last very long and have a tendency to break or chip. It is recommended to have an onlay or crown placed if too much tooth structure is missing. We'll be happy to show you pictures of your teeth from our intraoral camera at your next visit and discuss your treatment options.
Cosmetic Bonding
This is a fast and effective way to repair minor problems with teeth. Bonding provides exceptional results in just one office visit. Tooth colored resin material is placed onto the tooth, sculpted, light cured to harden then polished. Bonding is virtually undetectable, but conserves tooth structure and is most often reversible. Lots of times anesthetic is NOT needed for these procedures and also many times insurance will pay for a portion of the filling. We'd be happy to discuss your options with you at a future visit with Padre Dental.
Before and After Dental Treatment: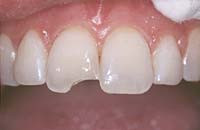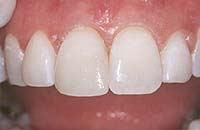 Porcelain Crowns and Onlays
Also known as "caps", crowns cover the entire tooth. They can strengthen and repair badly damaged teeth. Porcelain onlays replace just a portion of a tooth. Often used on molars with old silver fillings, crowns and onlays can dramatically improve the appearance of your teeth. Your teeth can look white and youthful once again.
One visit crowns now available with CEREC
Before and After Dental Treatment: